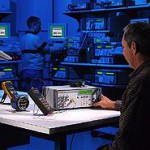 Jomac Pty Ltd , Has been supplying technical support to the Amusement Machine industry since 1983.
(Australian Residents Only)

Our experience is not limited to the amusement industry , We specialise in all sorts of electronic and technical support, Importing and re-manufacturing many hard to get parts.
We can happily say, "If we cant fix it You don't pay"
Taking your problems and making them ours is something that has made Jomac stand out from the rest! We don't like waiting for anything and don't see why we should make our customers wait for their repairs. You can expect nothing less than Prompt service from Jomac.